The Sky Blue Boys – Banjo Dan and Willy Lindner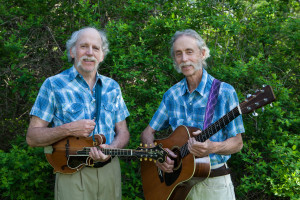 A Living Tradition
It's a venerable tradition as old as American music itself…
Two fellows with a mandolin and guitar, a musical teamwork built of habit, their voices fused in the special blend produced by kinship. They were called "brothers duets," and during the 1930s and '40s it was the predominant format in country music, practiced by now-legendary teams of brothers on radio stations and stage shows throughout the countryside.
In Vermont, Dan and Willy Lindner, The Sky Blue Boys, have revived the tradition. Following the example of old-time duos such as The Blue Sky Boys, The Delmore Brothers and the Louvin Brothers they have built up a large repertoire of wonderful old ballads, parlor songs, heart songs and sacred numbers. Heeding their own musical instincts they have expanded the accompaniment to include a variety of acoustic instruments and added many newer songs including several of their own compositions.
Willy and Dan have played together for decades. They formed the celebrated Vermont bluegrass band Banjo Dan and the Mid-nite Plowboys in 1972 and have toured and recorded extensively in that context, as well as sitting in on shows and recording sessions for many of the region's top acoustic musicians. But never far from their hearts were the sounds they learned to love long ago – the simple moving sounds of the early "brothers duets."
It's that clean, evocative sound The Sky Blue Boys now recreate for audiences throughout the Northeast… a reminder of things past, and of things constant.