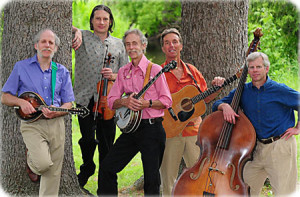 For forty solid years – 1972 through 2012 – Banjo Dan and the Mid-nite Plowboys represented The Soul of Bluegrass….from The Heart of Vermont.  Known throughout the Northeast for their soulful vocals, spot-on harmonies, fiery picking and a stage show full of energy, variety and humor, Banjo Dan and the boys were true entertainers, undisputedly one of the most popular musical groups ever to come out of Vermont.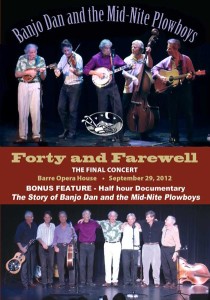 The Plowboys officially "retired" with a sold-out final concert at the Barre Opera House on September 29, 2012.  That show is captured on the DVD "Forty and Farewell," along with a half-hour documentary chock-full of interviews, old photos, posters and fan perspectives.  The DVD was recently selected for showing at the prestigious Film Festival sponsored by the California Bluegrass Association.
Banjo Dan and the Mid-nite Plowboys created a unique regional identity through their focus on original songs, many with Vermont and New England themes.  These numbers, along with imaginative arrangements of great songs from a variety of musical genres, are featured prominently on their many recordings.  The reader is invited to visit "Recordings" for a complete listing of albums by the band, its members and various musical offshoots.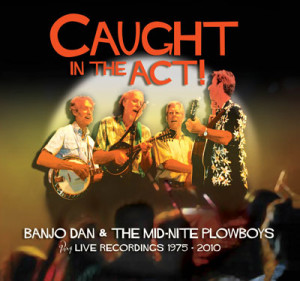 Not surprisingly, since their official retirement the Plowboys have been inundated by requests from fans across Vermont and New England and by concert and event producers for more Banjo Dan music.  In response the group has released a 2-disc album of favorite songs, "Caught in the Act!" recorded live at concerts throughout their 40-year career.  A reunion tour is a definite possibility.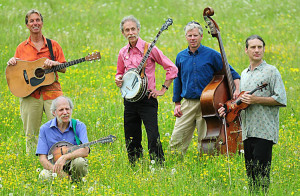 While Banjo Dan and the Mid-nite Plowboys have no intention of resuming full-time touring, they have in fact continued to play for private events such as weddings and family celebrations.  Interested parties – be they private individuals or concert presenters inquiring about a possible reunion tour – are encouraged to contact Dan Lindner at banjodan@pshift.com or 802-223-6965.
(Note that Dan also manages The Sky Blue Boys (Banjo Dan and Willy), a dynamic duo featuring traditional and original acoustic music.  SkyBlueBoys.com)  Demo discs, brochures and other promo are still available, revealing why since 1972 Banjo Dan and the Mid-nite Plowboys have stood for New England Bluegrass At Its Best.