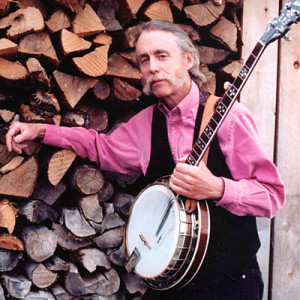 Hi friends.  We've added several  shows  since you last heard from us and it's going to be a great summer.  But before I get started let me call your attention to one particular concert that figures to be the highlight of the season.  And it's coming up really soon!
On June 9 Banjo Dan's Bluegrass Revue returns to the Haskell Opera House in Derby Line for another twin bill featuring two bands that have rocked that wonderful old concert hall on the border for the past four years.  Please note the date, because this has always been a late-summer event and we want to make sure all our friends and fans in Northern Vermont and New Hampshire and southern Quebec get the word.  Once again we'll combine two of the top acoustic groups in New England for a rollicking evening of great bluegrass and acoustic music.  Bob Amos & Catamount Crossing has become the premiere New England bluegrass band, featuring Bob's award-winning originals, wonderful vocals from Bob and his daughter Sarah, and brilliant picking on banjo, fiddle and mandolin.  Folks, this is one fine band!  Also featured will be The Sky Blue Boys – Dan and Willy Lindner carrying on the legacy of the legendary Banjo Dan and the Mid-nite Plowboys with a fascinating mix of traditional and original songs, augmented this year by the stellar bass work of the marvelous Carrie Cook.  Mark this one on your calendar right now – you're gonna love it!  (See below for details.)
Meanwhile The Sky Blue Boys have another busy summer coming up and Willy and I are having a blast playing with Danny Coane as The VT Bluegrass Pioneers – with Sam Blagden on bass for a lot of these shows.  Get out your calendar and red pen.  Here we go:
May 12: St. Albans, VT, St. Albans Museum, 9 Church Street, 802-527-7933, 7 PM, free.  The Sky Blue Boys plus Lillian's Girls – Jaye Lindner, Lea Menkens and Karen Pope.  Rescheduled from March 31 (snow), this special show focuses on our Vermont songs and especially a handful of originals about St. Albans.  It's free but reservations are strongly encouraged because of limited capacity.
May 13: Barre, VT, Vermont Granite Museum, 7 Jones Brothers Way, 802-476-4205, 4 PM, free.  As part of a day full of displays and activities celebrating creativity and technology The VT Bluegrass Pioneers will kick off the music at 4 PM, followed by the great rockabilly sounds of The Starline Rhythm Boys, also featuring Danny Coane.
May 19: Shelburne, VT, Bread and Butter Farm, 200 Leduc Farm Drive, 802-985-9200, 5 PM.  The Sky Blue Boys play a couple sets with a wonderful kids show and parade in between, so bring the whole gang.  It's Burger Night and the music is free but you definitely want to chow down on the great organic fare.
May 26: Colebrook, NH, Tillotson Center, 14 Carriage Lane, 603-237-8328, 7:30 PM.  $8 in advance, $10 at the door, $5 students.  The Sky Blue Boys, with the great Carrie Cook on bass, return to northern NH after way too long to perform at this wonderful concert hall that provides top-quality entertainment to folks in the Colebrook area.  www.tillotsoncenter.org for more info.
June 2: Tinmouth, VT, Old Firehouse, Route 40 and Mountain View Road, 7:30 PM, 802-446-3457. Suggested donation $10- $15.  The Sky Blue Boys are delighted to return to this wonderful, intimate venue where the audience is great and we're always at our best.  Lots of new songs this year, folks.
***June 9: Derby Line, VT: Haskell Opera House, 93 Caswell Ave, 802-873-3022, 7:30 PM, Banjo Dan's
Bluegrass Revue.  Tickets are just $20, U.S. or Canadian, available in advance at www.haskellopera.com  / (802)873-3022×205 or (819)876-2471×205 and Catamount Arts, www.catamountix.org / (802)748-2600 or (888)757-5559.  They may also be purchased in advance at Country Thyme Vermont, 60 Route 111 in Derby, VT (802)766-2852 and barring a sellout (always a possibility with this popular show) should be available at the door.
June 10: Warren, VT, Brew-Grass Festival at Sugarbush Resort, 102 Forest Drive,2-6 PM, 800-52-SUGAR.  $12-$40 depending on whether you're just there for the music or are partaking of the brews.  (Bring a driver.)  No minors.  A rollicking day of music and craft beers with three bands.  The VT Bluegrass Pioneers kick it off at 2 PM.  Let the good times roll.
June 14: Barre, VT, Currier Park on Main Street, 7 PM, free.  The Sky Blue Boys.  Bring a picnic and a blanket or lawn chair, relax and enjoy the music.
June 17: Belvidere, VT, Rattling Brook Bluegrass Festival, Route 109.  The VT Bluegrass Pioneers join several fine regional bands for another wonderful day of great music in the mountains.  Check Facebook or local media for details – just don't miss it!
That's enough for now, folks.  We'll update you later with a full listing of shows for July, August and September.  You can always check www.skyblueboys.com for more details on the shows and information on our CDs.  Not to sound like a broken record, but let me just point out to our new subscribers that every album recorded by Banjo Dan and the Mid-nite Plowboys and The Sky Blue Boys, along with "solo" projects by Plowboys Willy Lindner and Al Davis, plus the four-part series Banjo Dan's Songs of Vermont, are still available.
We'll see you soon.
-Banjo Dan